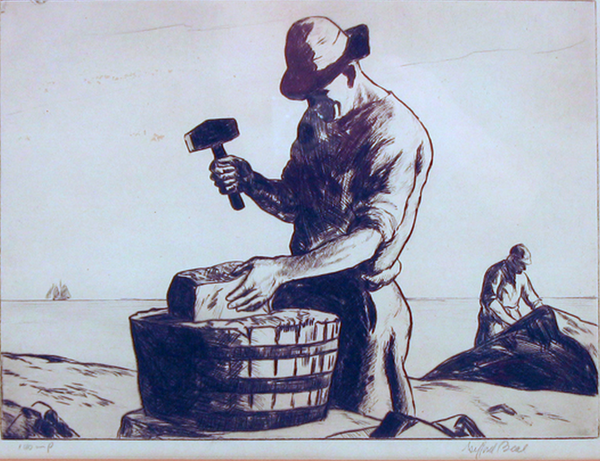 We who cut mere stones must always be envisioning cathedrals.
This was the creed of some medieval quarry workers, which served to remind them of the bigger picture of what their work was accomplishing. To remember that they were not just cutting rocks, but that they were a vital part of a grand and wonderful project which would serve many people and even generations to come – changed their perspective on their work completely.
I think this is applicable to many of us, in whatever field you may find yourself in, and I think it is particularly applicable to Christian service as well.
Martin Luther used this example: In the Lord's Payer, Jesus instructed his disciples to pray: "Give us this day our daily bread." Take a moment though to consider how many people and how many jobs are involved in God answering that one prayer: there is a farmer who plants and waters and harvests the grain. There's a miller, who grinds up the grain to make flour. There's a person who produces oil. There's a person who transports the materials. There's a baker, who takes the materials and bakes them. There is a grocer who sells the bread. And all of these people, as they do their jobs, are all doing the work of God as they are contributing to the answering of this prayer: "Give us this day our daily bread." (For more on this subject, click here to listen to the message: Soli Deo Gloria)
In other words, the Bible teaches that a person's daily work is not merely something for them to endure, so they can get on to the "good stuff," but rather a calling and a summons from God to serve others and to do His work in the world, for His glory. Psalm 147 says that "God feeds every living thing." How does God do that? Is it not through the farmer, the baker, the retailer, the website programmer, the truck driver, the banker, and everyone else involved in the process? Likewise, Psalm 147 says that God is the one who strengthens and protects a city. And yet it is done through the work of lawmakers and police officers.
If a person keeps this perspective, they will have a much higher view of their work than if they were to only see themselves as "mere quarry workers" or "mere shop workers", "mere teachers," "mere artists," etc. If you can see the vital role that your work plays in a bigger picture and in doing the work of God, it will change the way you view your work, and the attitude with which you approach your work.
This is true in Christian service as well. At White Fields, for example, we have people who serve in many different ministries, from prayer to teaching children, to setting up chairs, to running sound. If a person who sets up chairs sees their ministry as "merely" setting up chairs, they might easily become discouraged. It is important that whatever role they play, they see it as the vital and crucial part of the ministry and the Kingdom of God which it truly is.
"We who cut mere stones must always be envisioning cathedrals."
How can you apply this to your work and/or ministry today to change your perspective on what you do?